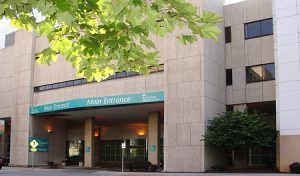 One example of a Breastfeeding Friendly Medical System is a healthcare institution dedicated to promoting, supporting and sustaining breastfeeding within the population that it cares for. The Aurora WIC program in Milwaukee, WI is uniquely housed within the Aurora Sinai Medical Center, facilitating daily communication and collaboration between the families who birth their babies at the Medical Center and the postpartum outpatient breastfeeding support at WIC. This continuum of breastfeeding support is an essential component of a Breastfeeding Friendly Medical System.
IABLE spoke with one of its trainers, Tonya Temple, Nutritionist, IBCLC, who is also the Breastfeeding and Peer Program Coordinator at the Aurora WIC Clinic, and Mary Shaw, RNC, IBCLC, Lactation Consultant at the Aurora Sinai Medical Center about how they collaborate to support breastfeeding moms and babies. In this conversation, Tonya and Mary both emphasized the importance of accessibility, trust, and accurate and consistent messages in providing quality breastfeeding support.
Accessibility
Tonya explained the essential role of geographic accessibility in supporting breastfeeding dyads.
"As I grew in my role of Breastfeeding Coordinator, I grew to love this community through their challenges and triumphs. I began to realize that in this community women aren't getting the breastfeeding support they need. The moms have a lot of different and unique barriers - and it is that transition to home time when challenges arise and they tend to quit breastfeeding. To get that support, I realized that there needs to be that one-stop-shop. We're a unique program in that moms can just walk down to us at WIC from the Post-Partum unit upon discharge. I think a beautiful benefit we have is that the hospital nurse or clinical lactation staff would say, 'I know Tonya at WIC, the IBCLC there. Can I relay this message to her about your breastfeeding challenge and we can get you in for a visit?'"
Mary adds, "I remember how hard it is to be out with your baby for multiple appointments! That is a huge part of the reason I like to be able to refer to WIC lactation if it is appropriate, because they are already going to WIC for their appointment."
Trust
Tonya and Mary spoke of trust not only between the healthcare provider and the breastfeeding dyad, but between the various healthcare providers and breastfeeding supporters themselves. Tonya explains about the process of building trust when WIC was first established within the Medical Center:
"The WIC office was new to the campus, and it took a few years to really build that relationship where there was trust. People really got to know us at WIC and what our mission was in really giving babies that optimal nutrition. For people not familiar with the program, I think WIC has been known as a place to get formula. Hopefully that whole thought process has changed. So as we built that trust, we began to, in an informal way, work closer together. Anytime we would have a delivery and there would be a breastfeeding challenge, our floor postpartum lactation staff would ask a mother, 'Can we get a consent from you? Let's talk to WIC."
Mary added:
"Tonya and I both have different strengths and weaknesses. We call each other a lot just to bounce ideas off of each other. Tonya has had times where she's felt like there needed to be more medical intervention, so she's referred to me. I've had clients where I know that coming to multiple appointments may be difficult for them, so I've referred to her. I find it very comfortable to be connected to the WIC clinics. To me it is just a win-win situation. I think we've come a long way from lactation consultants thinking WIC is the reason women don't breastfeed. We need to share this message with mothers. It is key for us to be speaking the right words."
A trusting relationship between the breastfeeding support person and the mother is also key to quality breastfeeding support.
Tonya explains that the WIC Breastfeeding Peer Counselors are women from the community who have breastfed their own children, and offer mother-to-mother support.
"The Peer Counselors understand those socioeconomic issues as well as some of those challenges and barriers in the community. As they build relationships with mothers in the clinic, a lot of times moms will call them from their bedside and invite them up to come see the baby or, 'I have a challenge with this…' So the Peer Counselors come up as a cheerleader and as a support."
Accurate and Consistent Messages
When a mother receives clear and consistent messages about breastfeeding, trust is built between herself and her breastfeeding support person.
Tonya explains:
"Our relationship has grown and I think we are to the point now that the lactation staff will call me on a mom and say, 'I've got her coming and this is her issue.' Then that mom knows there is a trusted person here. And if I need to consult Mary back I'll get a consent, and we'll work together on some of those challenges. Sometimes it is that difficult latch and maybe it is a craniosacral therapist we need to refer back to. So there is a circle of care. Mary is a nurse and has been in this field for a lot of years. We work off of each other and trust has been built. Mom benefits in receiving a consistent message, which builds trust. I think we can undermine trust. Breastfeeding is such a personal decision--they go to their mom or their aunt or their sister who has breastfed before. Sharing evidence based information and having someone they can trust is key. Often times moms say, 'That's what Mary told me!' Or, 'That's what the doctor told me! 'And I think, wow that is great for a mom that she is hearing a consistent message from her team of support!"
Tonya is a member of IABLE and briefly shared with us about IABLE's role in growing their breastfeeding knowledge in the Aurora WIC Clinic. It is WIC's goal that all of the dietitians and dietetic technicians be trained in some form of breastfeeding education. The state of Wisconsin recently contracted with IABLE to hold an Office Breastfeeding Champion Training for its employees to meet said goal and also strengthen their existing breastfeeding knowledge and education.
Tonya shared:
"I think Milk Mob has a great passion that every mom is an individual. And this breastfeeding business is individual. It is key to really getting to what a woman's feelings are about breastfeeding, what she has been told, and what her personal barriers are. When we can create an environment where a woman feels safe and able to share that, we can really get to addressing her barriers in a way that is successful. It is key for IABLE community to understand those things.
I think one of the big benefits of IABLE training is the triage tools. I think they are a benefit to all by helping us look closer at that process of obtaining a better assessment of the breastfeeding challenge. That is key in really standardized support and looking at all angles. I also think the support of IABLE membership gives staff another good resource and sharing opportunity to keep up to date on latest research and technique in managing the breastfeeding dyad. We all get very busy in our work and it is a benefit to have another resource that also offers other ideas and perspectives in the community in addressing some of our breastfeeding challenges.
I like to think of WIC as a community champion. We are very excited to be part of that team of care!"