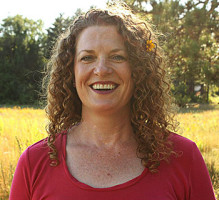 "The little things we do matter. Even when it is frustrating that we do the same thing over and over and over and we feel like we are not getting anywhere, we are. We just don't realize it."
Allison Laverty Montag IBCLC, BA
WIC Peer Counselor, Green Lake, WI
MM:
It's so nice to talk with you, Allison! Can you share a little bit about who you are and what you do?
AM:
I have been an IBCLC (International Board Certified Lactation Consultant) for 6 years. I currently work for WIC as a Breastfeeding Peer Counselor in Winnebago County which includes Oshkosh and Neenah/Menasha. I'm also working with the Winnebago County Health Department training and assisting daycares in becoming Breastfeeding Friendly and providing IBCLC services to Winnebago County residents. We have a Milk Depot in Oshkosh, WI at the Winnebago County Health Department. The depot is currently affiliated with the Indiana Mothers' Milk Bank and newly affiliated with the
Mothers' Milk Bank of the Western Great Lakes
. I am very enthusiastic about helping moms with breastfeeding!
MM:
Wow, that is quite the job description!
AM:
I've been a Breastfeeding Peer Counselor with WIC for almost 6 years. In this supportive role, I meet moms throughout their pregnancy and work with them postpartum with regular contacts. Through our contacts, women get to know me, hopefully get comfortable with me, and learn about breastfeeding. I believe women are more likely to reach out for help if they know you and are comfortable with you as opposed to contacting someone they don't know. Moms can choose either one-on-one or group breastfeeding classes. I strive to style my communication to what mom wants. Some moms only want to text, some want phone calls, and others want no contact with me until the baby comes. We try to figure things out together. I respect where mom is at and how she wants to interact. It has to be on her terms otherwise she is not going to talk to me or be receptive to what I am teaching.
MM:
How did you become involved with IABLE?
AM:
I went to the training as a first step in becoming a Trainer for IABLE, and I taught my first Milk Mob trainings in 2015. I am just getting started and am so excited because I realize that this is a game changer. This training is really going to make a difference! To have Breastfeeding Champions in Hospitals and Clinics and in various settings— this is huge!
MM:
Has your involvement with IABLE affected what you do in your breastfeeding support work?
AM:
Well, I would say it has changed some of the things I do in that it has clarified some breastfeeding management techniques for me. I am much quicker to have moms start manual expression and hands-on pumping early on, at the first signs of trouble. I am very intuitive with how I work with moms, and so I like IABLE tools because they are evidence based. We are getting these moms help before it is really a problem. At the first inkling of a problem we are like, "Oh, here, try this!" And then moms are getting accurate information in the beginning instead of us trying to pick up the pieces 2, 3, 4 weeks later. IABLE training gives the Champion the proper skills to deal with breastfeeding in the medical setting.
MM:
You said that you also manage the Milk Depot in Oshkosh, WI. Can you tell me more about that?
AM:
For 9 years I worked at a breastfeeding store in Oshkosh that had become a Milk Depot. At a conference, there was a table promoting the Mothers' Milk Bank of the Western Great Lakes, and they were looking for volunteers to establish more Milk Depots. When the store closed, the owner was willing to donate the store's freezer to the Winnebago County Health Department so it could continue. The WIC Director and the Health Officer were very open to the idea and we made it happen!
MM:
What a story! How is the Milk Depot working now?
AM:
Sometimes we are very low volume where we don't ship that much, but I just shipped 8 boxes this week. Generally moms are finding me; it is not me finding them. They go through the process of becoming a donor and once they are approved they are told which are the Depots in their area and they call the Health Department. To have the Winnebago County Health Department involved in the Milk Depot is just perfect! It is where we are promoting community health. We have moms that donate varying amounts and every drop counts! Right now I have some moms who come and fill my freezer, and they don't empty their own freezer—they still have more! I love when I get to ship milk. How can you possibly have a bad day when you are shipping breastmilk to a Milk Bank to help fragile babies?
MM:
Can you tell us more about the milk shipping process?
AM:
The Milk Bank ships us styrofoam coolers in boxes which we fill with donated milk. Each box needs 5# of dry ice. We are fortunate that we have a gas station nearby that sells dry ice, so it is very easy for me to get. You have to ship on a Monday, Tuesday or Wednesday so that it can get to the Milk Bank for processing by Thursday or Friday. So I have to coordinate that time and right now I ship it to the Milk Bank in Indiana. But with the new Milk Bank (the Mothers' Milk Bank of the Western Great Lakes) that opened in northern Illinois, we are going to be shipping it closer. It is so exciting! We are saving lives.
MM:
You are doing amazing work. Is there anything else you'd like to share?
AM:
I would encourage people who have taken IABLE course and liked it to support having it come back to their area because we need more people that are doing this. To just have one Breastfeeding Champion in the clinic, depending on the size, is not necessarily enough. I would love it if we had a hospital with every nurse who is working on the labor and delivery unit to have this training. We need moms to get consistent messages. One of the things that moms tell me is that it is very frustrating when they are getting different information and different advice from each person they are talking to. Then I turn around and I apologize to them and I say, "I'm sorry, this has got to be difficult." I encourage them to follow their instincts and go with the information that rings true to them, that feels right.
MM:
I agree that those accurate, consistent messages are so important.
AM:
You know what I'm finding? I'm having moms coming back to me, that I helped years ago, and they're asking me how to become a lactation consultant and what to do. So I talk to them about becoming a CLS or a CLC or going to IABLE training. I talk them through how to get started. I have an intern right now, and I helped her with her child 3 years ago and now she's in college and she wants to become a lactation consultant. It is so cool to see this, to see the change we are making. And so my message is, "The little things we do matter." Even when it is frustrating that we do the same thing over and over and over and we feel like we are not getting anywhere, we are. We just don't realize it.
MM:
That is a lovely sentiment to end this interview! Thank you.