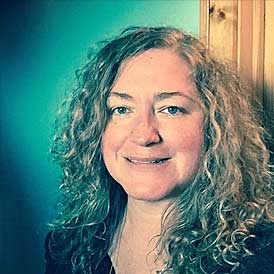 "I thought the ONBC training was a really exciting program because it got correct, evidence-based information out there. And I think it helped build those little bridges for changing the stories that we tell ourselves about breastfeeding, that are so deep in our conscious that we are not even aware of what our biases are."
Kim Reain, Registered Nurse at Access Community Health Center, William T Evjue Clinic, in Madison, WI
MM:
Tell me a little about your background and how you got to be where you are today.
KR:
I am a Triage nurse at Access Community Health Centers, at the William T. Evjue Clinic in Madison. I went to Nursing School and graduated in 1994, always with the intention of doing maternal/child work. For a while I thought I might be a Midwife. I have had very layered jobs! First I was a Public Health nurse in Milwaukee. I've also been an elementary school nurse, a home visiting nurse for single moms and their children, and a junior high/highschool nurse. I was also a sexual assault nurse examiner in Milwaukee for a while. When I left Milwaukee and moved to Madison, I worked at St. Mary's Pediatric Intensive Care Unit. And then I left that job to be a Homebirth Midwife's Assistant. I did that in combination with being a birth doula and a postpartum doula. I was also a La Leche League leader for 5 or 6 years, and got my Certified Lactation Counselor certification three years ago. I have worked at Access Community Health Centers for almost 10 years now. I do feel like every job prepared me for the next one!
MM:
Wow, what a great career path! Tell me about why you decided to do the ONBC training.
KR:
Our Prenatal Manager Sara Downie offered the training to all of the nurses. Her goal was to improve lactation support at the clinic. I thought that sounded like a great idea! I am a lactation junkie.
MM:
How do you think the ONBC training might have affected your personal goals for your career, and also how might have it changed your job role?
KR:
Well, it didn't change my job at all in "real time", but I think it gave me a framework to help in understanding how lactation is supported in the medical setting. Because I have been working in lactation for so long most of the information from the training was not new to me, but for a lot of my peers this was stuff that they were hearing for the first time. I thought the ONBC training was a really exciting program because it got correct, evidence-based information out there. And I think it helped build those little bridges for changing the stories that we tell ourselves about breastfeeding, that are so deep in our conscious that we are not even aware of what our biases are.
The program did a great job of helping people think about that for themselves. And evidence-based practice seems to be where lactation is headed in general. That is exciting to me, evidence-based practice. Not what happened when you breastfed or when your grandma breastfed, but what does the research tell us, and how does that fit into the reality of what is going on today? There are so many more complications today. And I don't know if it is because we are casting a wider net, or if there is something changing so there are things now that we really didn't see before. I think there was a really nice overview of all of the things that we can do to support breastfeeding.
MM:
You said that the training didn't change your job in "real time" but has it changed your job role in any capacity?
KR:
I think there has always been the goal of being supportive of breastfeeding women, but there is how the medical system looks at it and how my clinic looks at it and the reality of the situation. That has always been the discussion point. Trying to figure out how you blend the art of breastfeeding with the science of breastfeeding with the number crunching of running a clinic. The perfect training would not change that. Sort of, "let's try this, and re-evaluate." On the one hand, the training helped my whole organization have a discussion about breastfeeding in a way that it wasn't before. And I got to be part of that. And then we got to say, "Okay, now we have more people who have the knowledge about breastfeeding, so we have more people on board." The ONBC training is informing things that are happening on an administrative level, but things never happen as fast as you want them to! And the needs are so real. A person that is in need in front of you doesn't care what the clinic's scheduling crisis is. I think that lactation is trending. I think that it is something that is trending to be talked about more openly and more frequently. And I think that is giving credit to why you need a professional, or somebody who has had professional breastfeeding training.
MM:
And what about your peers who attended the training? Have you noticed any differences in the running of the clinic or even practical, day to day things?
KR:
Some of our triage staff are now more willing to take phone calls about breastfeeding and lactation. And they have a better understanding of when to pass that on to someone who is a lactation counselor. And I think that the folks that are not triage staff and are doing rooming and supportive nursing care are always telling me, "Oh, this mom asked me about this, do you have time to talk with her?" So it has increased the referrals. I think we are all paying attention to how people feed their babies and their newborns, and what the things are that they may be having problems with that we normally might not ask about. So I think it is changing the conversations they are having with patients, and also what to do; so they have a better understanding of how to assist them. Slow and steady wins the race!
MM:
Yes! Those behavior and attitude changes take a long time.
KR:
Right. There have also been discussions at Access about how things should be managed based on information from the training. It has been helpful for people to be able to use the triaging tools. I think it has also helped them look at what our goals are. We know that we want to support breastfeeding, but okay, we need advanced lactation support, and we sort of need general lactation support. If someone is rooming a baby and the mom says, "My baby spits up every time I breastfeed him.", it can be something as simple as asking some preliminary questions, and maybe be able to resolve the issue right there because it is just a positional thing or the mom's confidence or mom needs reassurance and it doesn't have to move up to advanced lactation support. So I think that kind of stuff is what's happening. And I think that the patients at the clinic who are breastfeeding are getting verbal accolades and being supported that way. Not that I think they weren't before, but it is being done in a more active way now. It put it on the radar in a way that no matter how obsessively I think about it, now these other people have all of that wonderful background. It is very exciting!
MM:
That is very exciting! Is there anything else you'd like to share?
KR:
I think the training program is very comprehensive. If you don't have any lactation background, you're going to learn stuff. If you do have a lactation background, you are going to learn stuff. It is worth the time. I think especially in the clinical setting it really provides you with a complete framework. You don't have to be the expert. You aren't being trained to be the expert to solve all problems. You are really being trained about what is normal. And then what is abnormal is what gets referred out. And maybe there are some things that are normal but they are incredibly complicated!