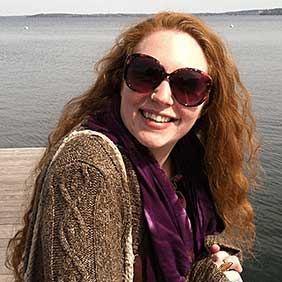 After the OBC training I am now better able to recognize breastfeeding challenges before they spiral and become bigger. And when I need to refer to a care provider and/or an IBCLC, I know more about what clients can expect when they call or go to a clinic."
Miranda Welch, professional Birth Doula in Madison, WI.
Miranda Welch
Professional Birth Doula
MM:
Where do you work?
MW:
I am a professional birth doula with a private practice. My private practice is Miranda Welch Doula Services.
MM:
Can you tell me a little about your background and how you got to be where you are today?
MW:
Sure, it is a bit of a long story! My Masters is in Gender and Women's studies, so I have experience teaching human sexuality; women's health; and gender, race and class in the US. Before becoming a doula I wore a lot of different hats for a lot of different organizations. They were all focused on ending systems of oppression, and during that time I also did a lot of advocacy work supporting survivors of sexual and intimate partner violence, and then somehow all of that kind of led me to my calling, which was birth work. And becoming a birth doula! I have been a doula for about 4 years now and I am certified through DONA (Doulas of North America International). I am also a placenta preparation specialist and have trainings in hypnobirth support, VBAC (vaginal birth after cesarean), surgical birth support, rebozo, and breastfeeding.
MM:
Wow, your background sounds incredible! Why did you decide to do the OBC training?
MW:
I was contemplating becoming a Certified Lactation Counselor (CLC). I wanted to offer even better support to the breastfeeding families that I work with. I felt like there were a lot of limitations in terms of what I could do as a CLC. So basically unless I wanted to teach breastfeeding classes it didn't feel entirely necessary to me to do the CLC program. The Breastfeeding Champion Training could provide me similar training, granted less intensity than the CLC, and allow me to support those families in a much more comprehensive and competent way than I would be able to otherwise. It basically just felt a little cheaper, more doable, and more appropriate for what I was wanting. It was a nice alternative to a CLC so I went for it!
MM:
Tell me a little more about how things may have changed for you in your doula work since you did the OBC training.
MW:
In terms of my goals or job role or anything like that, I don't believe it had any impact. It certainly met the goal of being able to provide more effective breastfeeding support to families. My job role as a doula has always been to provide informational, emotional and physical support to families; primarily during labor and birth but also prenatally and in the immediate postpartum period. And my role in breastfeeding in all of that has always been to provide immediate support, particularly with skin to skin, latch and positioning in the first hour after birth. My doula training itself includes breastfeeding training specifically for this kind of support, but I wanted to be able to provide more than that, and with confidence. I would say in terms of my role it hasn't changed at all but my ability to go above and beyond in fulfilling it for families has changed.
MM:
And how have you used the skills you learned in the training?
MW:
I use the skills I learned at the training a lot. I use them when talking with my clients prenatally about breastfeeding—talking about their goals, expectations, wishes, fears, all of the above. I also use it immediately after the baby is born, supporting them when they bond with their babies in those first moments and develop their nursing relationship. And I also use them for postpartum visits. I meet with them postpartum after their milk has come in and I am able to observe them breastfeeding, answer any questions, and address any concerns that they are having. And help them trouble shoot and/or triage if necessary and give them multiple ideas for moving forward in their breastfeeding relationship. I am able to help them feel confident in their breastfeeding relationship and pay attention to potential challenges and then address them appropriately before they spiral, which, I think, is huge for me as a professional and them as growing families. I am now better able to recognize those challenges before they spiral and become bigger. And when I need to refer to a care provider and/or an IBCLC, I know more about what clients can expect when they call or go to a clinic.
The Breastfeeding Champion Training does include a lot of triage training, which is absolutely helpful in navigating a lot of early breastfeeding challenges with families. And I would say that overall the training is definitely aimed at medical providers like nurses and public health people, and it is certainly clinical in parts so there were things that were covered in the training like medications, galactagogues, different medical advice and even diagnoses that are beyond my scope of practice entirely. But those aspects of the training gave me more information than I would have gotten otherwise, particularly from trainings that are aimed at doulas. Those are elements that you don't normally get at doula trainings. And I feel that gave me the element of anticipatory guidance when working with families. It is a lot easier to support a breastfeeding family with that knowledge and anticipatory guidance just as it is when I am supporting birthing families. As a doula I appreciated getting that information. As I said, I feel so much more confident supporting breastfeeding families as a result.
MM:
That is terrific! Is there anything else you'd like to share with us?
MW:
I think the biggest thing is to acknowledge that doulas are actually supporting hospital births, and that is where many of us are supporting births the majority of the time. I think there is a little bit of a misconception out there that we do predominately home births and really it is the other way around. I think acknowledging that and having more of an awareness of the role we play in breastfeeding as a kind of support that our clients are expecting from us can help so much with the OBC training in terms of making it accessible to doulas. I think just being aware that doulas are not medical practitioners--we are support folks--but the clinical training information is still relevant, especially in terms of anticipatory guidance for breastfeeding families.