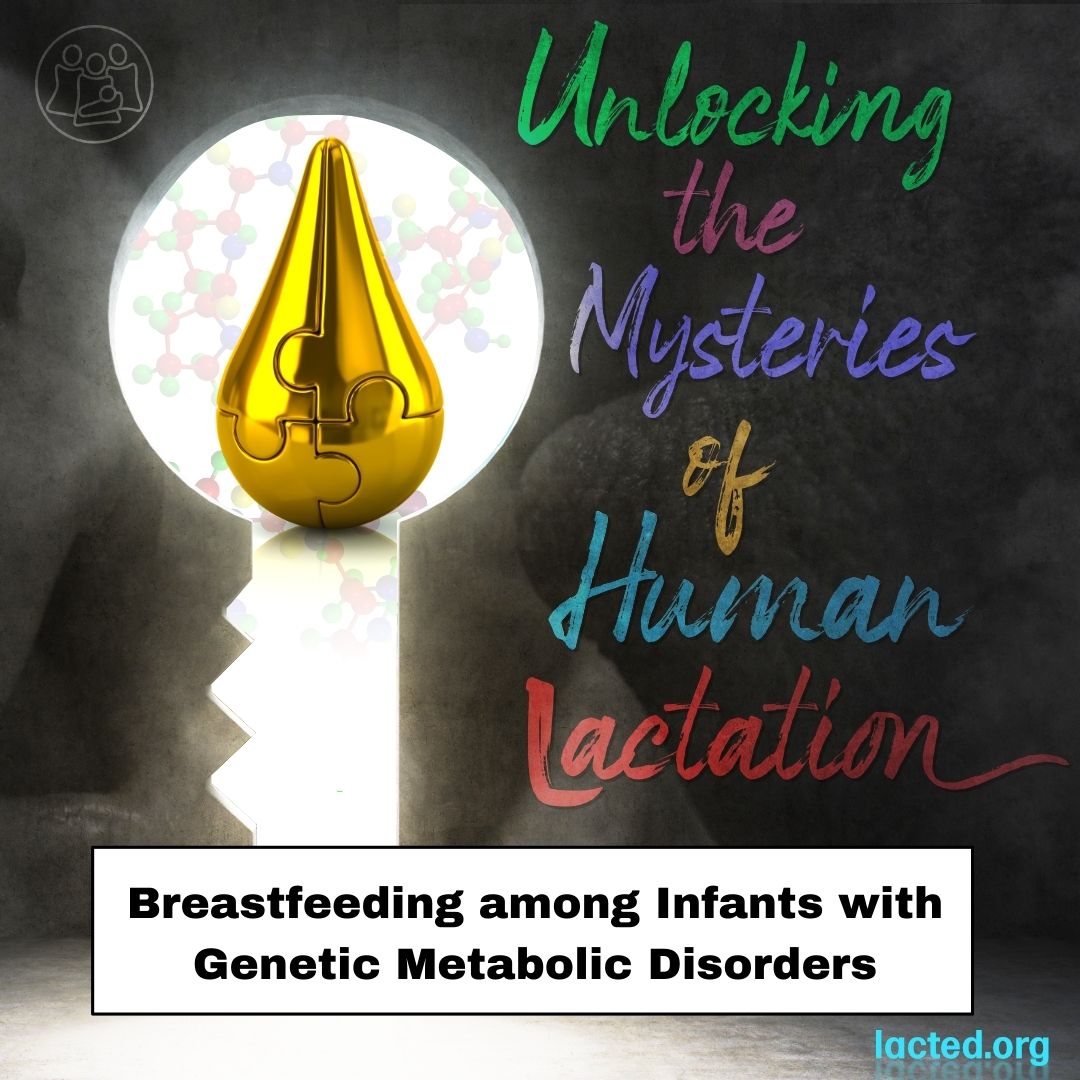 Research Series – Genetic Metabolic Disorders – Sept 2022
Unlocking the Mysteries of Human Lactation:
Breastfeeding among Infants with Genetic Metabolic Disorders
Wednesday, September 21st, 2022
12:00 - 1:00 pm CST
with
Therese Breunig RD, CLC

Details are included in our flyer which can be downloaded here.

Overview of the Research Series
This monthly educational series is an exploration of the science of human lactation which aims to deepen understanding and explain our shared clinical observations. We look forward to showcasing researchers who have made it their lives' work to contribute to an ever-growing foundation of science that will ultimately strengthen the roles that breastfeeding and human lactation play in the health of the lactating parent, child and family.
About the Webinar
Therese Breunig RD, CD, CLC, is a metabolic dietitian in the Biochemical Genetics Clinic. She works with the clinic team to prescribe and manage specialized diets for patients with inborn errors of metabolism. She is also a certified lactation counselor and assists families with infants trying to incorporate lactation and/or human milk into their metabolic treatment plan. 

Registration
Please "Add to Cart" at the bottom of this page to reserve your seat to attend live or access the recording.

Recording
A recording of the webinar will be available for 2 weeks to those who have registered. Attendees can earn credits through any combination of live participation and/or viewing the recording.
Everyone registered for this event will receive a link to the recording within 3 days after the event.
Accreditation
IBCLC: This course has been allocated 1(L) CERP recognized by IBLCE. Long Term Provider #117-04.
IABLE has been accepted by International Board of Lactation Consultant Examiners® (IBLCE®) as a CERP Provider for the listed Continuing Education Recognition Points (CERPs) programme. Determination of CERPs eligibility or CERPs Provider status does not imply IBLCE®'s endorsement or assessment of education quality. INTERNATIONAL BOARD OF LACTATION CONSULTANT EXAMINERS®, IBLCE®, INTERNATIONAL BOARD CERTIFIED LACTATION CONSULTANT®, and IBCLC® are registered marks of the International Board of Lactation Consultant Examiners.
CDR: The Commission on Dietetic Registration has awarded Prior Approval of 1 CPEUs for this education activity.
CME: Credits have been applied for.
Cancellation Policy
Full refund up to 2 weeks before lecture. 50% refund for less than 2 weeks before lecture.
Questions?
Please use our contact form to contact us with questions.
Research Series – Genetic Metabolic Disorders – Sept 2022
$10.00