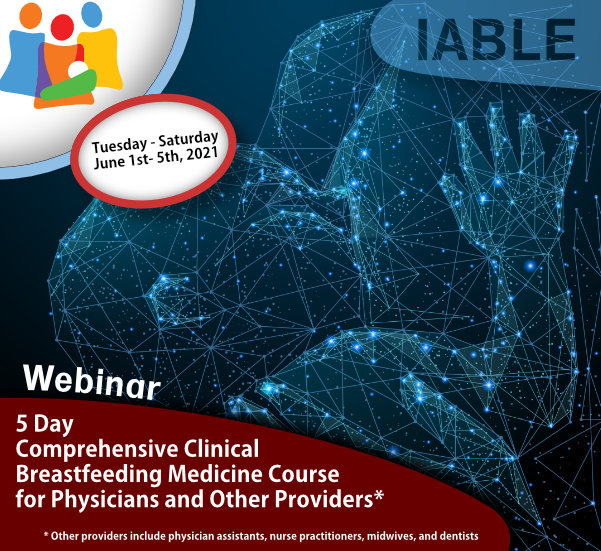 Comprehensive Clinical Breastfeeding Medicine Course
for Physicians & other Providers Webinar
21/06/01
Tuesday-Saturday, June 1-5th, 2021
The goal of this course is to provide breadth and depth of clinical knowledge for providers who desire comprehensive breastfeeding education. Each session will focus on evaluation and management strategies in a case-based format, so that participants leave with the knowledge and skills to manage a wide variety of breastfeeding problems that they will encounter in a typical primary care practice.

For conference details download the event brochure here.
IABLE Educator Members:
Earlybird: $600
Regular: $700
Non-Members:
Earlybird: $680
Regular: $780
To receive the member discount, you must be logged in at checkout.
Earlybird pricing in effect through April 15th, 2021
Scholarships
We have a limited number of 25%-off scholarships for medical students, physicians-in-training, and other health professional students. Please contact us, and let us know your training status, including your student or training status and your school/residency program.
Webinar Recordings
Recordings of all the sessions will be available to conference registrants for 4 months. Attendees can earn credits through any combination of live participation and/or viewing the recordings.
Accreditation
Accreditation has been applied for through the American Academy of Family Physicians for CMEs, and through the International Board of Lactation Consultant Examiners for CERPs.
Membership
All attendees will be granted an IABLE Educator Membership for 1 Year.
Current Educator Members who attend this conference will have their Membership extended throught June 2022.
Cancellation/Refunds
Full refund (less a $35 processing fee) through 5/14/21. No refunds after 5/14/21, however, an 85% credit is applied to any future IABLE courses.

Questions? Contact us here.
Comprehensive Clinical Breastfeeding Medicine Course
for Physicians & other Providers Webinar
21/06/01
$680.00