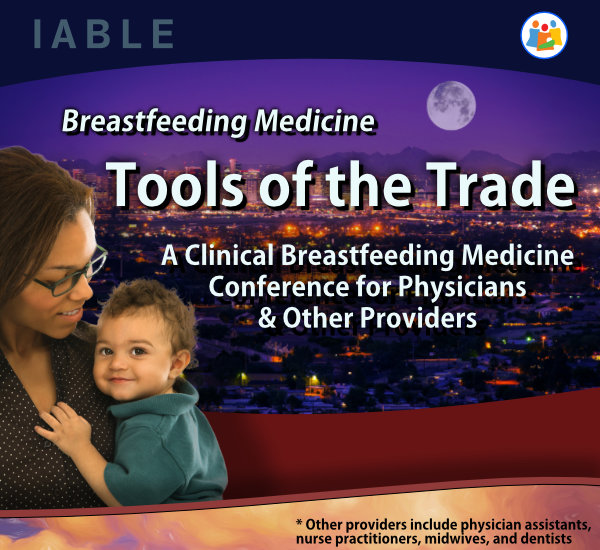 – Tools of the Trade –
A Clinical Breastfeeding Medicine Conference – 202109
Thursday-Saturday, September 23-25th, 2021
Join us for IABLE's third annual Clinical Breastfeeding Medicine Conference for Physicians and other Providers! The first 2 conferences were case-based, and now that IABLE conducts its monthly Second Sunday Webinar Case Discussion Series, we decided to focus on other pressing issues. Breastfeeding Medicine work in our home environments can be stressful and lonely. We are often working above and beyond our clinical hours, taking every opportunity to lecture and teach students. Physicians are supposed to heal themselves, so we are ending early each afternoon to allow for plenty of unstructured time together! Hanging together is an important way to recharge!
We chose 2 didactic topics this year. The first day will be all about medical student and residency electives. We are reinventing the wheel at our institutions, and this day of sharing will be the start to the development of greater resources for those creating breastfeeding medicine electives.
The 2nd and 3rd days will address a multitude of issues regarding starting and sustaining a breastfeeding medicine practice. A practice can be defined by managing one's own patients at a higher level, or creating a consultative practice in an academic, private or nonprofit setting.
Join us to have a blast, learn from each other, and relax!
For conference details, hotel reservations and schedule download the brochure here.
Full Conference - In Person
IABLE Members*: $650
Non-Members: $710
Full Conference - via Webinar
IABLE Members*: $300
Non-Members: $360
To receive the member discount, you must be logged in at checkout.
Covid Vaccination Policy
For the health and safety of others, all in-person attendees must be vaccinated. Children who are ineligible for the vaccine are exempted. We invite unvaccinated individuals to join us via webinar.
In-Person Location
Arizona State University SkySong
1475 North Scottsdale Road
Scottsdale, AZ 85257
Webinar Scholarships
We have a limited number of 25%-off scholarships for medical students, physicians-in-training, and other health professional students attending the Conference via Webinar. Please contact us, and let us know your training status, including your student or training status and your school/residency program.
Recordings
Recordings of all the sessions will be available to conference registrants for 4 months. Attendees can earn credits through any combination of live participation and/or viewing the recordings.
Accreditation
Accreditation has been applied for through the American Academy of Family Physicians for CMEs, and through the International Board of Lactation Consultant Examiners for CERPs.
Membership
All attendees will be granted an IABLE Membership for 1 Year.
*Current members who attend this conference will have their membership extended through September 2022
Cancellation/Refunds
Full refund less $50 on or before 12:00 AM CST 8/28/21
No refund after 12:00 AM CST 8/28/21, however 85% credit is applied to any future IABLE courses.

Questions? Contact us here.
– Tools of the Trade –
A Clinical Breastfeeding Medicine Conference – 202109
$360.00 – $710.00