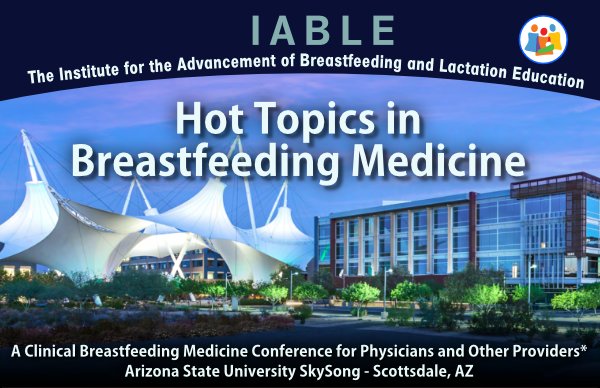 Hot Topics in Breastfeeding Medicine Conference – Nov 2022
Hot Topics in Breastfeeding Medicine
Thursday-Saturday, November 3-5th, 2022
Join us for IABLE's 4th annual Clinical Breastfeeding Medicine Conference for Physicians and other Providers!
This innovative conference is taking a new approach - call it Journal Club on Steroids! Our in-person attendees will meet in small groups to discuss 1 of several research articles. After reviewing and discussing their papers, the groups will each have 30 minutes to highlight what they've learned and what they want their colleagues to know. This is an opportunity to share critical thinking skills and create fun ways to share new information.
On our last morning, we look forward to a workshop on healing perinatal trauma with narrative medicine, and a history of medicine lecture focused the historical origins of breastfeeding myths.
We end each day at approximately 3:30pm so we have time to catch up with family, work, exercise, socialize, or rest up for the fun social events each evening!
Our in-person attendance is currently limited to 50, so we encourage you to plan ahead. And of course a webinar option is available.
Join us to have a blast, learn from each other, and relax!
For conference details, hotel reservations and schedule download the brochure here.
Want to discuss conference arrangements for hotel rooms and ride sharing? Please use the discussion posts on our Facebook Event Page.
In-Person Registration
IABLE Members*: $625 Earlybird / $690 Regular
Non-Members: $685 Earlybird / $750 Regular
Webinar Registration
IABLE Members*: $200 Earlybird / $265 Regular
Non-Members: $260 Earlybird / $325 Regular
If you'd like to register for Saturday only, please visit this registration page.
Webinar registration will be closed at the end of the conference on Nov. 5. See below regarding recordings.
Earlybird Pricing until 11:59 PM EST on Sept. 2, 2022
*To receive the member discount, you must be logged in at checkout. Learn more about IABLE memberships here.
Please note that for a number of reasons, it is our policy not to permit registration for our events, nor access to the recordings, after the event has occurred. These include policies of our accreditors and speakers, technical issues, and fairness to everyone who has registered.
Optional Social Activities
Thursday, Nov 3, 5:15-9:00pm - Pizza Party at Fate Brewery: $40/person
This is a mingling social event directly across the street from Skysong conference center and the hotel. Price includes 2 drinks from the bar, pizza (gluten friendly and vegan available), salad and appetizers.
Friday, Nov 4, 5:30-9:30pm - Dinner and Zoo Lights at the Phoenix Zoo: $65/person
This is also a mingling social event with a full dinner buffet (vegan and gluten friendly available) and cash bar. Price includes admission to the Zoo Lights event. The zoo is close to the conference center.
Covid Vaccination Policy
For the health and safety of others, all in-person attendees must be vaccinated. Children who are ineligible for the vaccine are exempted. We invite unvaccinated individuals to join us via webinar.
In-Person Location
Arizona State University SkySong
1475 North Scottsdale Road, Room 201
Scottsdale, AZ 85257
Webinar Scholarships
We have a limited number of 25%-off scholarships for medical students, physicians-in-training, and other health professional students attending the Conference via Webinar. Please contact us, and let us know your training status, including your student or training status and your school/residency program.
Recordings
Recordings of all the sessions will be available to conference registrants for 1 year. Attendees can earn credits through any combination of live participation and/or viewing the recordings.
Links to the recordings will be emailed to registrants 2-3 days following the conference.
Accreditation
Accreditation has been applied for through the American Academy of Family Physicians for CMEs, and through the International Board of Lactation Consultant Examiners for CERPs.
Cancellation/Refunds
Full refund less $50 through 11:59 PM EST 10/13/22.
No refund after 12:00 AM EST 10/14/22, however 85% credit is applied to any future IABLE courses.

Questions? Contact us here.
Hot Topics in Breastfeeding Medicine Conference – Nov 2022
$40.00 – $750.00