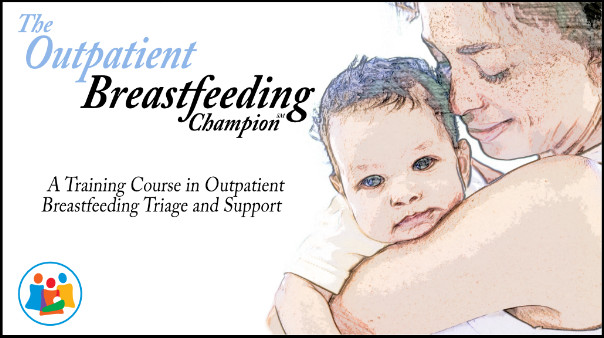 Outpatient Breastfeeding Champion Webinar – Feb-March 2023
Outpatient Breastfeeding Champion Webinar
Tuesdays, February 14, 21, 28, & March 7, 2023
8:00am – 12:00pm CST Each Day
with
Anne Eglash MD, IBCLC, FABM and
Elizabeth Rose MD, IBCLC, FAAP, FABM
Our Outpatient Breastfeeding Champion (OBC) Course is a basic, clinically-focused course for any person who is a medical or community breastfeeding/lactation supporter. We provide instruction on how to answer the most common breastfeeding/lactation questions that a family will have throughout the course of lactation, into toddlerhood and beyond.
Details are included in our flyer which can be downloaded here.

Registration
Please "Add to Cart" at the bottom of this page to reserve your seat to attend the live webinar or to access the recordings.
OBC Booklet
Registration fee includes a copy of the Outpatient Breastfeeding Champion Handbook. with shipping within the US. Books shipped outside of the US incur additional shipping fees. We will contact you if this applies to your registration.
Recordings
Recordings of the webinar will be available for 1 year. Attendees can earn credits through any combination of live participation and/or viewing the recordings. A link to the recordings will be emailed to registrants within 2-3 days following the webinar.
For a number of reasons it is our policy not to permit registration for our events, nor access to the recordings, after the event has occurred. These include policies of our accreditors and speakers, technical issues, and fairness to everyone who has registered. Note that sometimes our recordings will be available later as an eCourse. We will announce these in our newsletter when they are available.
Accreditation
CMEs: The AAFP has reviewed The Outpatient Breastfeeding Champion Course and deemed it acceptable for up to 14.50 Live AAFP Prescribed credits. Term of Approval is from 02/14/2023 to 02/13/2024. Physicians should claim only the credit commensurate with the extent of their participation in the activity.
AAFP Prescribed credit is accepted by the American Medical Association as equivalent to AMA PRA Category 1 credit(s)™ toward the AMA Physician's Recognition Award. When applying for the AMA PRA, Prescribed credit earned must be reported as Prescribed, not as Category 1.
CERPs: This course has been allocated a maximum of 14.5 (L) Continuing Education Recognition Points (CERPs) by IBLCE. CERPs approval #CLT117-04.
CPEUs: The Commission on Dietetic Registration has awarded Prior Approval of 14.5 CPEUs for Activity No. 172718 Suggested Performance Indicator(s) 4.1.2; 8.2.1; and 9.3.3.
RNs: All state boards for nursing licensure approve of educational offerings that are approved by the American Nursing Credentialling Center (ANCC). According to ANCC Certification, the continuing education hours approved by the AAFP and AMA PRA Category 1 Credits™ meet the requirement of formally approved continuing education hours and may be used as such for ANCC Certification renewal. https://www.nursingworld.org/certification/faqs/
Cancellation/Refunds
Full refund minus a $35 fee up to 2 weeks before course. 50% refund for less than 2 weeks before course.
Please use our contact form to contact us with questions.
Outpatient Breastfeeding Champion Webinar – Feb-March 2023
$250.00